Stronger Owner Relationships
Firm App is an easy-to-use owner relations portal for energy operators. It provides payment alerts, support ticketing, phone/email systems, and more.
The Firm App owner relations portal provides support ticketing (including phone calls & email), royalty payment alerts and history, document exchange, signatures, & more.
Track custom data on owner profiles
Jump in to an Owner's profile page to see contact information, internal notes, open tasks and issues, recent messages, contracts, tax documents, and more.
Setup custom fields - such as text fields, select lists, attachments, dates, or GPS locations - so you can track any information that is relevant for your processes.
Share documents and request signatures
Share important files like lease agreements, tax documents, contracts, and more with individual land/royalty owners.
Coming soon, Firm App also includes an e-signature module that allows operators to collect legally compliant e-signatures according to ESIGN and UETA standards.
Track issues and assign workflows
Automatically create support tickets from online forms, email, and phone call voicemail. Automatically route tickets to the correct department and track open tickets, due dates, and more.
Build your own custom forms
Firm App's "Custom Forms" feature brings a new level of versatility to your data collection. You can craft your own questions, choosing from text inputs, date and time selectors, dropdown lists, or even GPS pin drop fields, and include options to attach photos, videos, or documents. Stay in the loop with automatic email and push notifications to individuals or groups, and gain insights through response history analytics. And when you need to take your data elsewhere, simply export your form data to a PDF or spreadsheet.
Send emails, push notifications, and acknowledgments
Firm App's Messaging & Acknowledgments feature lets you send emails and push notifications, making communication a breeze. You can choose to notify individuals or groups based on specific parameters like GPS location, county, or even the well they're associated with. After sending a message, you can check an acknowledgment status report to know who has viewed your message. Plus, you can enhance your communications by attaching images, documents, and links to make things crystal clear for your recipients.
Send royalty payment alerts
With Firm App, you'll always stay informed about your royalty payments through real-time push notifications or emails that alert you as transactions occur. The service also features an intuitive search tool that lets you delve into your payment history and observe trends, helping you gain insight into your financial trajectory over time. In addition, you can easily view and print check stubs, or if you need to keep a more detailed record, you can effortlessly export your royalty payment data to Excel or PDF.
Build your own web pages with text, images, forms, etc
Firm App's Content Management System gives you the power to craft a bespoke home page, including text, images, forms, graphics, and documents that best reflect your business. You can create custom menus and pages tailored to the needs of your owners or community stakeholders. The flexibility of the system allows you to control the visibility of your content based on the location, county, or well of the owner, and even send out location-specific newsletters.
Design a custom phone system
With Firm App's Phone System managing your communications just got easier. From recording and transcribing calls to creating interactive phone trees, you'll have all the tools at your fingertips. Instantly answer FAQs using AI and high quality text-to-speech, forward calls seamlessly, and even tackle voicemail issues with smart AI routing. It's the convenient, modern way to streamline your operations.
Automatically convert emails to tickets
Firm App's "Email System" allows you to receive emails and automatically create open tickets. It includes real-time reporting and keeps a thorough archive, letting you search through past emails and attachments with ease. Plus, the system uses AI-based routing, so your billing queries go straight to accounting and tech issues land with IT, ensuring you're always speaking to the right person.
Learn more about data security & privacy
Firm App follows all of the latest OWASP TOP 10 best practices and provides audit logging reports including data creating, modification, and deletion. Firm App is in the process of completing a third-party SOC 2 security audit. Learn more about Firm App Data Privacy and Security at: https://firm.app/security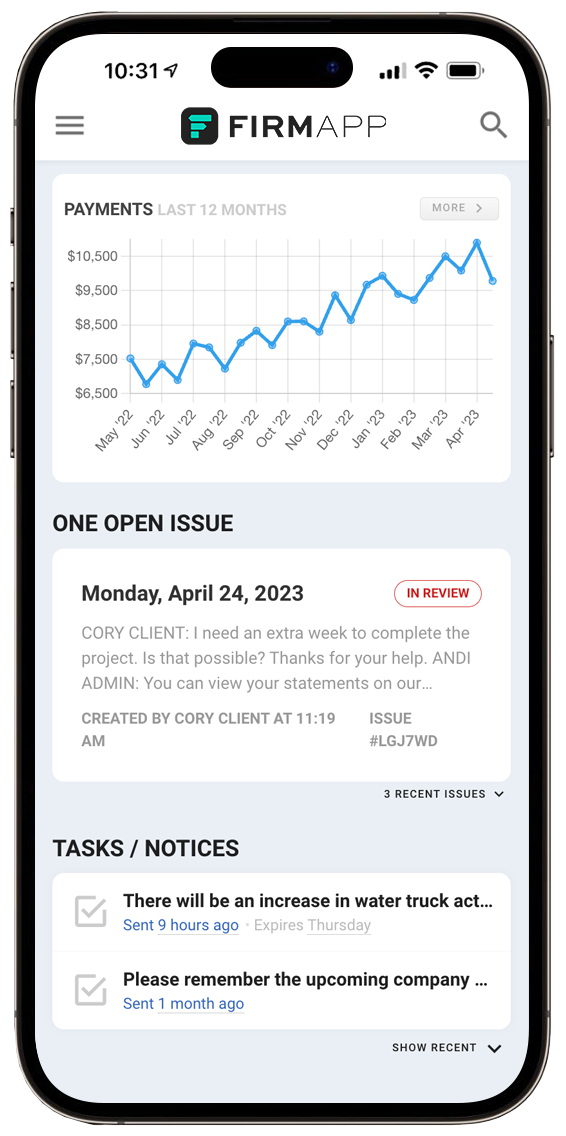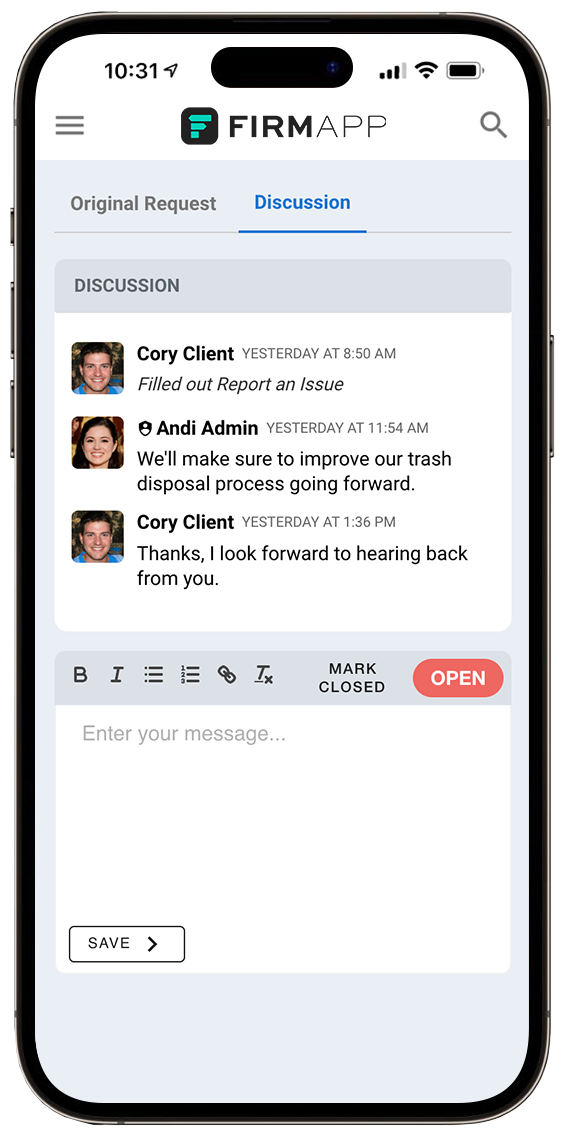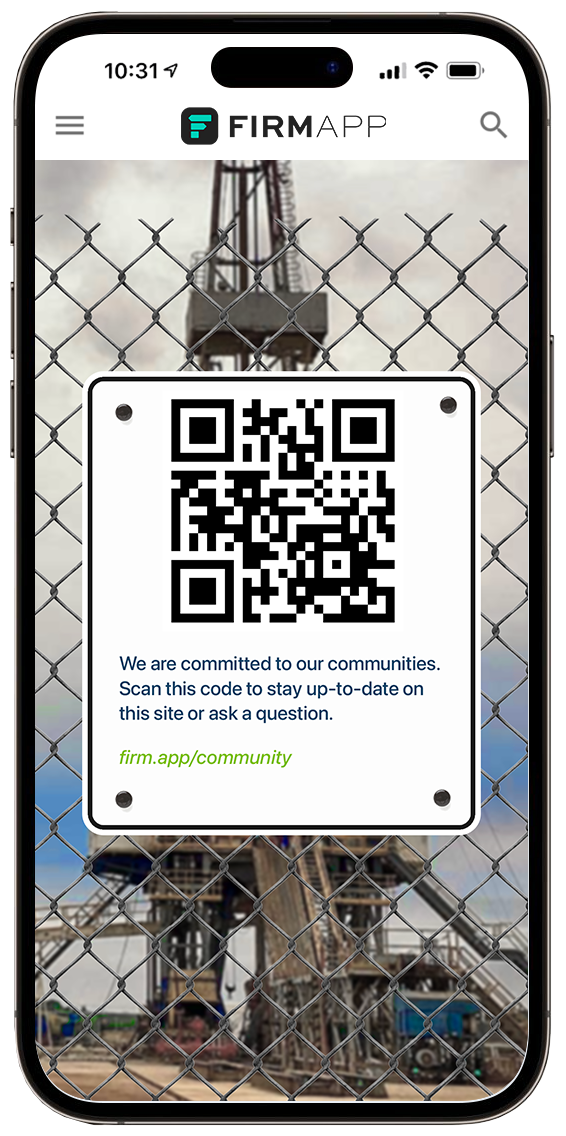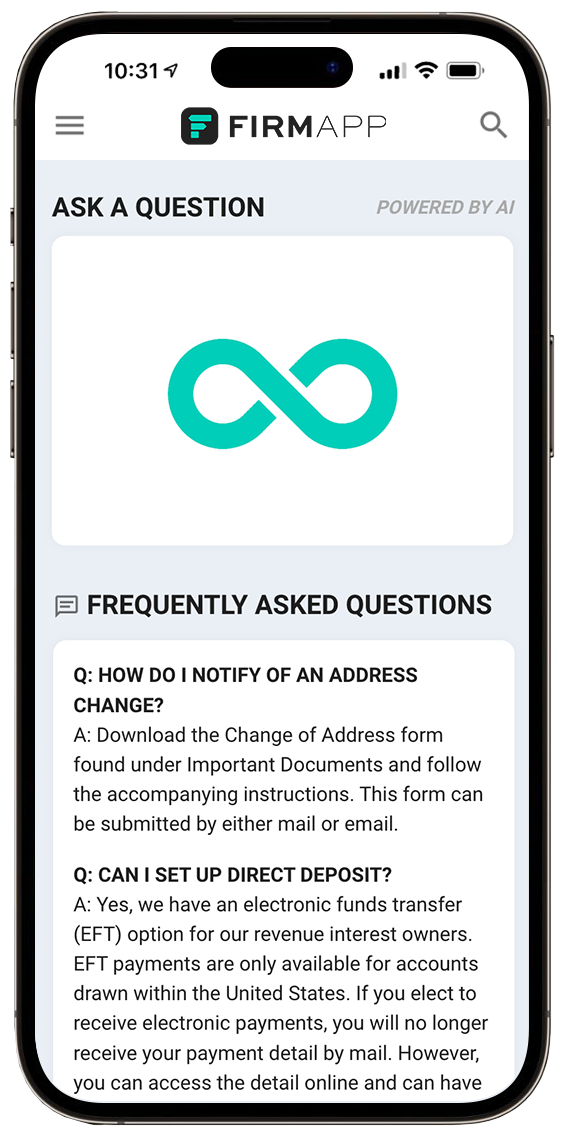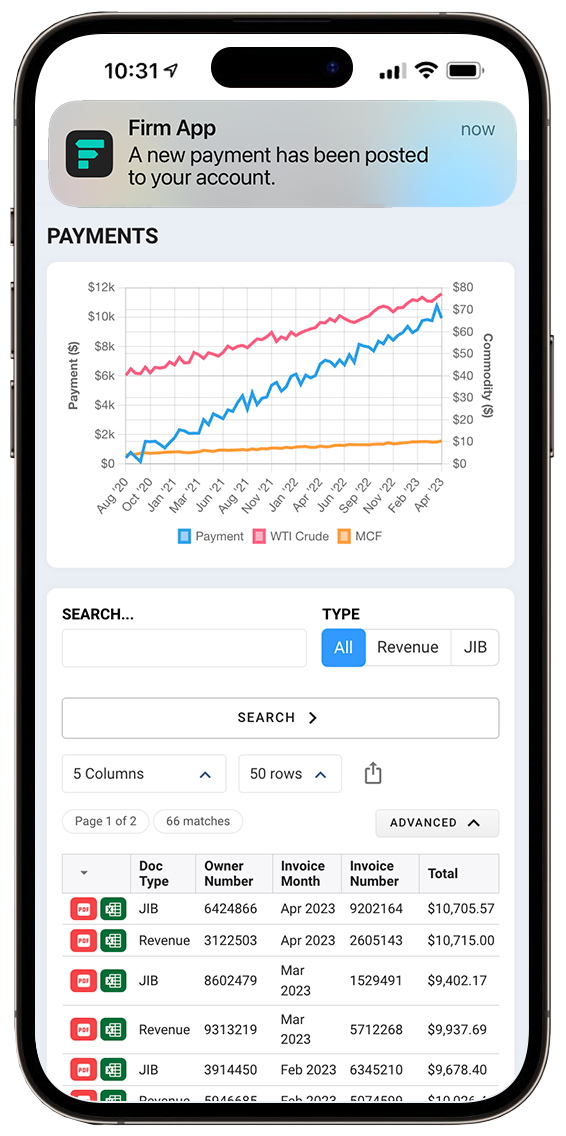 iPhone/Android Apps, Phone System, Email Ticketing - All-in-One
Firm App streamlines operator-owner relations. It addresses the needs of both surface and royalty owners by providing self-service support, real-time payment alerts, and document exchange, and more. Firm App is not just a tool, it's a solution shaped around the real needs of energy operators and their many stakeholders.